---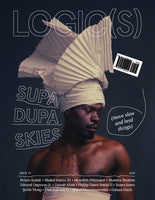 The theme of this issue, supa dupa skies (move slow and heal things), is in part an homage to Missy "Misdemeanor" Elliott's 1997 debut studio album. Her transgression of Hip Hop's dominant archetypes—Madonna or the Whore qua almost asexual hip hop purist or video vixen—cracked the sonic uniformity stagnating on the radio.

With the goal of detonating the bleak uniformity of tech journalism, supa dupa skies riffs on Missy's audacity—her declaration that she was more than Curtis Mayfield's superfly, she was supa dupa fly. This issue heralds the dawn of a new era for Logic(s) and we plan to do something very different than counting up falling sky Chicken Little style. We switching out the stultifying dread and doomsday hand-wringing for Black joy and rhythmic plurinational freedom dreaming. We storytelling outchea.
---
Read more, including the Table of Contents, at https://logicmag.io/supa-dupa-skies/.

 We can currently only ship back issues like this within the United States. We do now offer international print subscriptions, though—to subscribe for future issues, see here.